Yes ladies and gentleman, I have done it. I mean it wasn't a spur of the moment thing. People who knows me must have heard of my desire to get a tattoo at least once or twice and after several visits to several tattooist shop and selecting the tattooist of my choice, made appointment to discuss the designs and of course the price, oh the price is a bomb, I kid you not, and ta-da, I'VE GOT IT!!!
To those of you who are close to me, I am really sorry that I did not confided in you earlier regarding this because I don't want you guys to change my mind or talk me out of it as I have thought and considered about this very very seriously over the span of few years. So mummy, I am super sorry that you have to find out through my blog instead of me telling it to you because I really could not sum up my courage to tell it to you as I know you are dead against me getting one. But what's done is done ma, you can't really just scrap that piece of skin off me like you constantly tell me you would ._. So yes, I am expecting a call from you very soon, but please, just read to the end because I will be stating my reasons of why I got this tattoo.
Well, without further ado,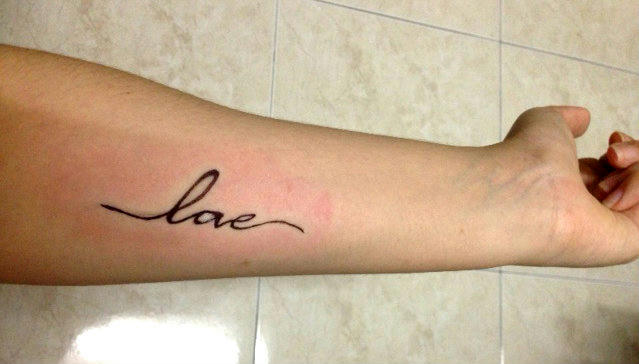 MY FIRST EVER TATTOOOOOOOOOO
Well to you it might just be a silly, simple tattoo that spells LOVE but this is not those type of love that you think it is. I am not a delusional 13 year old teen girl who goes there needling herself with the word 'love' because of romance. This is the love that I feel towards both of my parents, forever lasting and skin deep. After such a long consideration, I finally decided on this. I am here today because of the two of them. The love and affection that they have showed me, the care and the pain that they have to go through from the things that I've done, the everlasting love that they have for me. That's the exact same love that I have for them which is why I got this tattoo. I think it's intimate and it means so much to me.
Yeah well anyways, I am NOT asking YOU to go tattoo yourself nor encouraging, don't get me wrong. I just want to share what I've done with all of you and before you even think of inking yourself, please please please think it through because it is something that will last forever. Even if you decide to remove it one day, it will still leave laser scars and that is not a pretty sight.
I've done hours and hours of research before thinking of getting one so please, tattoo is not something that you should get in a spur of the moment thing! If you just want to have fun or think it's something cool, then you should just go for temporary tattoo and not a permanent one.
Anyways, all of you must be dead curious of whether or not it hurts. Oh you sadistic people. OF COURSE IT HURTS! But I won't say unbearable. I think the tolerance level for everyone is different and I did choose to tattoo myself at quite a tender part I would say. It still have that red marking around the fresh tattoo even up till now but my tattooist says it will go away in a couple of hours so I guess it should be fine.
I must point this out: Who says only doctors have steady hands?? Tattooist DO TOO!! Especially on calligraphy tattoo like this and where some of the lines are real thin. There's no cover up or thickening of the line so they CANNOT go wrong at all!! Thank goodness the tattooist is super experienced and professional, which is why, selecting the right tattooist is of utmost importance!
I will let you guys know how it's healing in a few days time but in the meanwhile, another picture of me with my new beloved tattoo!! <3 So HAPPYYYYYYYYYYYYYYYYYYYYYYYYYYYYYY!! <3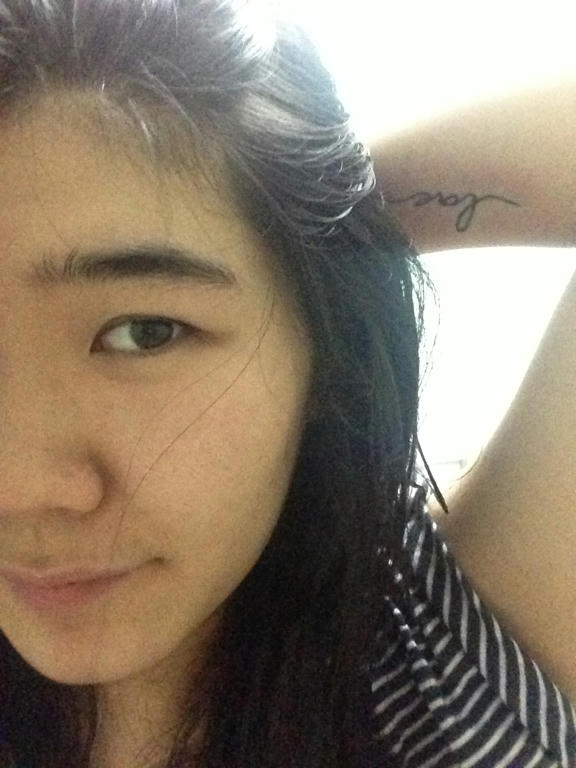 "Hey there <3"
The info of the tattooist including their Facebook portfolio is at the bottom of the page. Be sure to check them out! <3
.
.
.
.
.
.
.
.
.
.
.
.
.
.
.
.
.
.
.
.
.
.
.
.
.
.
.
.
HAPPY EARLY APRIL'S FOOL PEOPLE.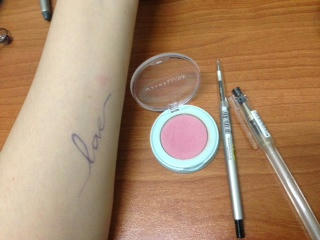 Yeah I know.
Don't go on hating me >D
Love ya all, ohiohiohiohio!
Ma, don't kill me okay <3 IT'S A FAKE ONE <3